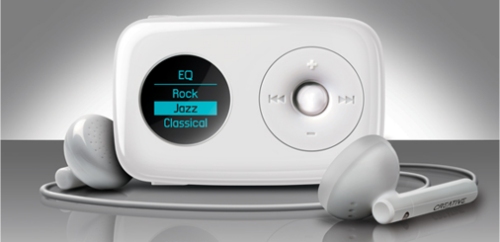 In only less than two months after Creative released the Zen Stone MP3 player, they've now come out with an updated version called the Zen Stone Plus with some nice upgrades that could just as well have been on the first version they released in May.
The Zen Stone Plus player doubles the memory capacity from 1 to 2GB, adds a simple but much appreciated blue 64×64 OLED display, a stopwatch, voice recording, a built-in FM tuner with up to 32 presets, support for MP3, WMA, and Audible and 9.5 hours of continuous playback. I guess that last one is a .5 hour downgrade from the first Zen Stone but that's probably to be expected with the added display.
It comes in a variety of colors including black, white, pink, blue, red and green. Pricing runs a little over $99 which is also an upgrade from the $39 for its predecessor. Creative has also added some nice accessories for the Zen Stone Plus such as an armband, a wristband/watch band and a protective keychain case for the player.
Creative, media player, pmp, Zen Stone