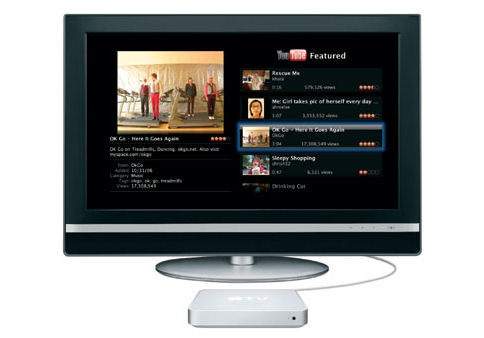 The immense popularity of YouTube and the rapidly eroding audience of network television could only mean that one day someone out there would think of bringing it into our homes and not through our computers. I am of course referring to Apple's announcement to bring YouTube direct through its Apple TV streaming service, the next greatest thing from the mind of Steve Jobs (barring the release of the iPhone of course.)
Ironically enough Apple will debut the YouTube service in mid-June, right about when the iPhone hits the masses. Apple will be launching with "thousands" of YouTube's videos and adding thousands more each week, promising that the entirety of the Tube's content will be available for Apple TV customers sometime this fall. How often Apple would update its YouTube content after that wasn't mentioned but if you really need that much fresh video content then you also need more hobbies in your life.
Apple also snuck in that it's offering a 160 GB hard drive version of Apple TV. You need to special order this Apple TV but with four times the storage size why not supersize your order?