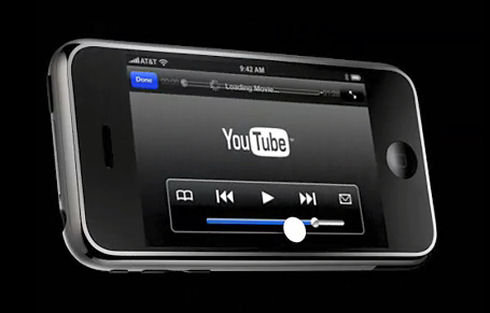 Doing a great job keeping up their momentum, Apple today announced that YouTube videos will be available on the iPhone when it launches June 29th. A new application for the mobile device will allow users to eventually watch the full lineup of YouTube videos in the H.264 (not Flash) format and access them through Wi-Fi or EDGE.
Of course all the videos on YouTube were not originally coded in the H.264 format so not all will be available right away but YouTube is promising that 10,000 of them will be ready for the launch on the 29th. YouTube will continue to encode the clips until all of them are available in the new format this fall.
Overshadowed by the iPhone portion of the press release, Apple also announced that YouTube videos are now available through Apple TV. Apple TV owners can use the built-in software update tool to update their home device to enable browsing through and viewing all the content available on the YouTube video sharing site. You can see a QuickTour of the YouTube feature on the Apple website.