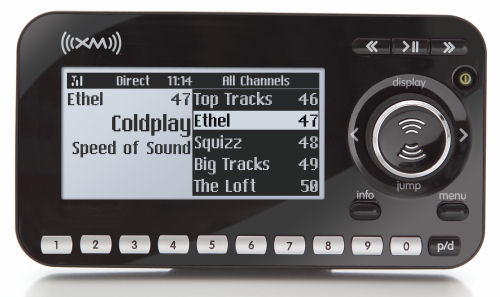 With over 170 channels of satellite radio through XM it can be difficult to choose a favorite station to listen to, much less switch back and forth between stations to pick up your favorite song, program or sporting event. The new XpressR satellite radio receiver from XM comes with a few features that allow you to take more advantage of what's on the other channels and helps you avoid missing out.
The most noticeable new feature of the XpressR is the multi-view of stations. The display can be changed to split down the middle. The left shows what's currently being played and the right half shows 5 other stations of your choice. The display can be set to show the name of the channel, the current song or the artist so you can see (when your not driving of course) if there is something else you'd rather be listening to.
This new radio also has a 30 minute buffer that allows you to pause or back up what you've listened to previously on a rolling 30 minute window, even if you change the station channel. You can also save up to 30 of your favorite channels and set the device to remind you when your favorite song, artist or sports team is on one of the stations. A remote control and an on-screen ticker with stocks and sports scores come standard as well. The XM XpressR radio receiver retails for $129.99 without the XM subscription.