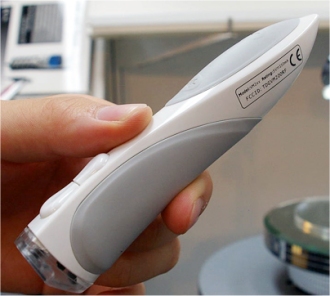 Salient Technology has a wireless mouse shaped a like a large pen with a rubberized grip which addresses a lot of complaints designers have with using the traditional mouse. Some common complaints include difficulty doing any type of drawing or detailed work with a traditionally shaped mouse, that they often take up a significant amount of desk space and that wires are always in the way.
This V-Mouse model (VM-203) uses RF communication to run wireless and has a rechargeable Li battery that charges up through a USB connection. It even has two buttons to work like the right and left buttons of a standard mouse and can simulate the third button scrolling. It's compatible with Windows and Mac OS's and can transmit its signal to a USB 1.1 dongle from up to 10 meters away. The V-Mouse wireless pen mouse (Designer Plus VM-203) retails at $66.95.
Salient also has a number of other pen-mouse models that are wired and wireless for designing and presenting which can also communicate via Bluetooth instead of RF.
Source: Aving.net