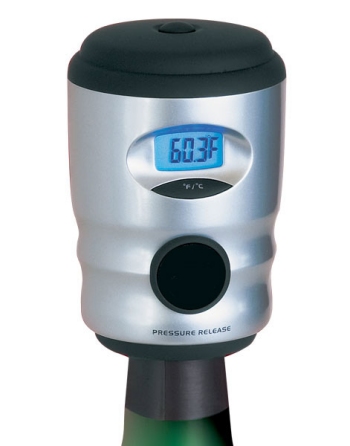 Assuming that you open a bottle of wine without finishing it for some reason, this little gadget actually creates a vacuum in your bottle and seals it up to enjoy later in an attempt to keep it fresh.
It activates just by putting the Wine Bottle Vacuum Seal over the top of the open bottle and the little vacuum pump inside will start up and seal the bottle. Release the negative pressure by pressing the button on the front. It also has a digital temperature gauge on the front that shows the current temp of the wine along with some optimal serving temperatures on the back.
The device must stay on the bottle to keep it sealed so you can only do one bottle at a time which wouldn't work for your Winepod batch, but for those of you who drink wine in moderation this could be a handy gadget. Two AA batteries and $35 will get you set up.