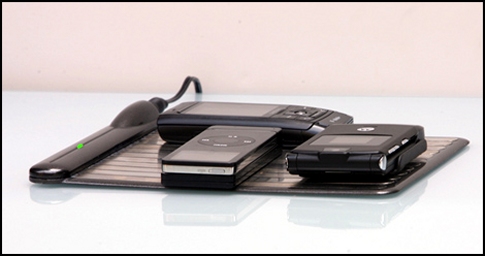 Wild is right. The WildCharge device is a small mat which is plugged in and allows you to charge your gadgets by just lying them on it. No longer is wireless charging a concept for sometime in the future as you can actually get your hands on your own WildCharge pad July 7th.
The wireless charging in the WildCharge pad uses something called inductive charging, which is one of three basic ways to charge things wirelessly. Simply by lying your cell phone, PDA, iPod or PSP on the pad it will begin charging just like it was plugged in. The advantage of a device like this is that you don't have to have a bunch of cords to connect to your devices or need to wonder which goes to what. Forgetting your charger while traveling could also become a non-event if hotels started placing this in rooms. It's a one-pad fits all type of thing.
The catch in this case is that each device does require a special custom fit adapter that goes on it to enable its charging, but once you have that it can charge multiple items a once just by resting them on top of the pad. I would imagine in time this type of adapter would just be built into the gadgets.