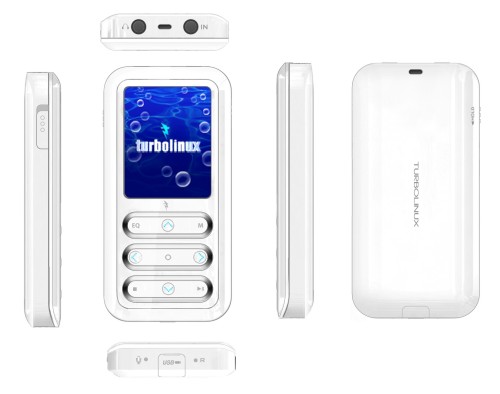 TurboLinux has announced that its media player / OS host, the TurboLinux Wizpy, will be going on sale worldwide in June to primarily English speaking countries including the U.K., U.S., Canada, Australia, India and Singapore.
The Wizpy has features similar to an average media player with a 1.7″ OLED display and supports Ogg, MP3, WMA, XviD MPEG4 and JPEG files. It also has an FM tuner and can direct-record sound inline to MP3. The TurboLinux Wizpy is more than just an average PMP, though.
This media player, which is already available in Japan, contains a PC-bootable version of the Linux operating system. By connecting the Wizpy to a PC through a USB interface the user is prompted to boot up and run the Linux OS straight from the device. Personal settings are also saved back to the Wizpy so that everything looks and runs just as it did, no matter what PC it's connected to.
This device, according to TurboLinux, is going to be marketed to the additional countries much as it was in Japan by focusing on the individuals who are curious about the Linux OS but don't want to install it on their own PC. The user interface on the actual media player supports different languages, but the Linux OS on the Wizpy is currently only set up for English.
Even though Japan markets a 2GB and a 4GB version of the Wizpy, TurboLinux is only going to offer the 4GB version elsewhere priced at about $278.