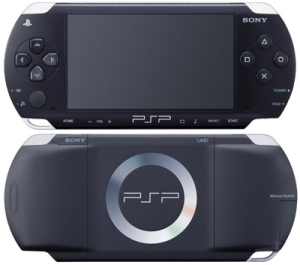 For a few weeks there has been a fair amount of talk about a new PSP design coming from Sony. Now Kotaku is reporting from inside sources what they believe to be the final specs for what they are calling the "PSP Slim", although an actual name hasn't been released.
The new PSP2, or whatever it will be called, isn't a total redesign and will be using the same hardware from the existing PSP, but it will sport a "much slimmer design". The battery life is expected to quadruple partly due to a more power efficient LCD screen, and they've also found a way to make the UMD games load a little faster.
The new PSP design will have some built-in internal memory with it instead of having to rely on an external Memory Stick. In fact it will house a nice 8GB of internal memory which will be much better than taking the PSP home only to find out that you have to go back and purchase a Memory Stick card if you want to save anything. Some re-working of the buttons will also be part of the design, with the D-Pad getting some serious changes in particular.
According to the report the new slimmer PSP 2 is expected to be priced at around $170 which is right where the current PSP is at, and they expect to have it on shelves around the end of Q3 in plenty of time for holiday shopping.