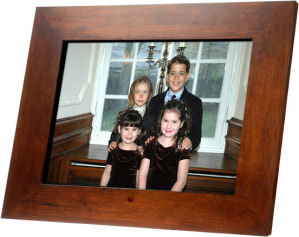 Smartparts is not a name which immediately rolls off the tongue when I think of consumer electronics. That name is sounding a little sweeter though with its unveiling of the SP15MW digital picture frame. What's so cool about that you ask? How about the 15-inch display screen for starters.
That's right – 15-inches of digital picture display goodness. That beats out many of the other digital photo frames on the market. Smartparts said in a press release the SP15MW also has a 24-bit display capable of showing over 16 million colors and supporting XGA (1024 x 768) resolution. In addition this frame can store up to 2,000 digital photos (JPEG) in its 256MB of internal memory, which looks to be expandable via support for a variety of media cards.
Other interesting features of note on the SP15MW include MP3 audio enjoyment through built-in speakers, variable speed slide shows, a remote control, USB 2.0 support, display support for PowerPoint presentations and an included remote control.
And there's also the nice looking solid birch frame…
[Product Page, via Electronista]