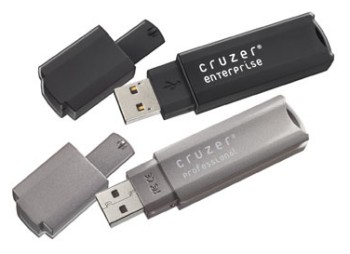 SanDisk today is offering business computer users some serious new security USB flash drives for protecting valuable data. These drives are the Cruzer Professional ($55 to $145) and the Cruzer Enterprise ($75 to $185).
The SanDisk Cruzer Professional, available in storage sizes up to 4GB, offers hardware-based 256-bit AES encryption. This is on top of letting you create a password protected private area on the drive for your eyes only. The Cruzer Professional gets a maximum read speed of 24MB per second.
The Cruzer Enterprise, meanwhile, has the same hardware protection while also taking the password option one step further. It requires that all of the drive's contents be complex password protected. While we aren't exactly sure what complex means we assume the four letter password of your dog's name won't work with this drive.