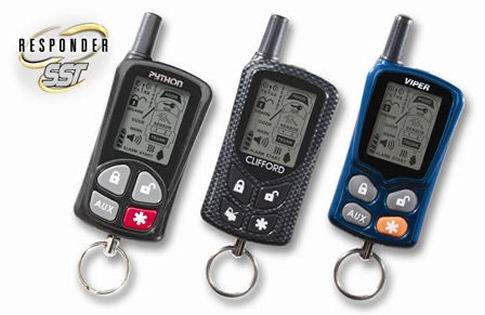 Remote car starters are nothing new, and we've even seen some two-way communication key fobs before that are not to shabby, but we've never seen one with the range that the Responder SST has.
This remote car starter is actually a two-way transceiver device that not only sends signals to your vehicle to telling it to start or lock the doors, but communication is sent back to the key fob remote with the status of the vehicle. The remote will let you know if the doors are locked, the vehicles security system is armed, if it's running and will even alert you if the alarm is triggered.
The big kicker with the Responder SST is that it does all this from up to a mile away. On a cold day you can start your car in the parking lot even if you can't see the car, and once its started it will send a notification back letting you know it's running. If the alarm goes off on your car while your in a movie, the alarm on the remote can be set to vibrate to inform you discretely. The information is shown in text and graphically on a small LCD screen right on the remote control.
The Responder SST remote car starter sells for $659 and comes branded from a few different authorized dealers. You can find out more through the Directed Technologies website.