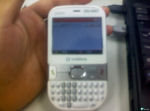 A tipster leaked more info on the rumored "Palm Gandolf" phone to someone at IntoMobile today with some details on device. According to the "trusted' source, the Palm Gandolf will be the Treo 500 series that will come in multiple versions and colors. There is expected to be a model running Windows Mobile 6 Standard and another with the Palm Garnet OS sans touchscreen.
Other features include 3G + HSDPA, Bluetooth, 256MB internal memory with 64MB of RAM, a 2.4″ QVGA display, a 2 megapixel camera and overall thin dimensions of 117mm x 65mm x 13.8mm (hence the flat Gandolfini name).
The common thought is that this 500 series offering from Palm will be a scaled down, more affordable smartphone broadening the consumer base for Palm devices.
via Electronista