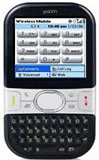 Yesterday the Morning Paper posted a grainy black and white photo of a new product to be coming from Palm called the Palm Gandolf, showing features of an integrated camera, Bluetooth, EVDO and a Micro SD slot.
Today the have another smaller photo, this time in color (looks photoshop to us) along with some more details about the device, stating a price point of under $200 and an availability date of sometime in Q4 of this year. Also it has a full QWERTY keyboard and runs Palm OS.
About the time we were wondering just how real this rumor is some more info popped up from PalmInfoCenter showing a poorly focused shot of something that looks a lot like the Gandolf images we've been seeing but in white instead of black. (Why a person cannot combine the skills of spying on new gadgets and the ability to take clear photos I'll never know.)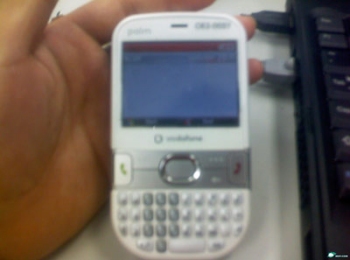 The new photos are for a device that is said to run Windows Mobile Smartphone (no touchscreen) instead of the Palm OS Garnet that went along with the photos from Morning Paper. Palm currently only uses the Pocket PC version of the Windows Mobile OS.
PalmInfoCenter also points out in the photo of the Gandolf device the Palm logo and Vodafone branding, along with tell-tale home and back buttons of Windows Mobile Standard.
No more details were available at this time but a $200 price tag on a new small Palm device would be sure to gain some attention.