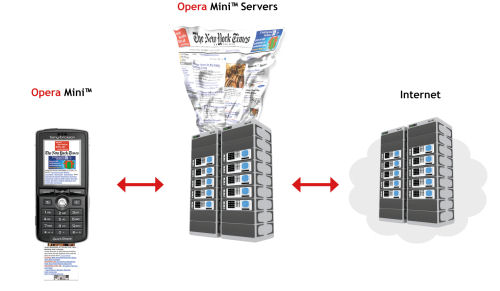 Opera has released the Opera 4 Mini Beta browser for non-smartphones to be able to surf the internet seeing pages how they are and not distorted or requiring special "mobile" web pages. Users can download the browser now for free and follow the instructions on your phone to get it installed. There is also an Opera Mini 4 Beta for Palm and Blackberry devices that require a manual installation.
The Opera Mini 4 works by gathering pages through the Opera servers and "shrinking" them down to be viewed in full with their original format on your mobile phone. The new browser comes with a number of cool features to make navigating the web and individual pages easier for phones without a lot of extra controls for navigation.
'X marks the spot' zooms in on the likely beginning point of the page and expands the portion you want to view. It also has a "mouse" cursor on the screen that moves across and snaps to content and links as you move across the page. Power Scrolling lets you scroll around a page using the numbers on your keypad with the center '5′ button to zoom in an out on content. You can also activate a context menu on the screen to perform actions on the page like "Fit to Width" or "Reload".
You can download the Opera Mini 4 Beta browser through SMS, WAP or to your PC to install and try out, or watch Opera Software's video spoof on the iPhone compared to phones with the Opera Mini 4. You can even check out a live demo of how the browser looks and acts on a mobile phone, interacting with the buttons and viewing the resulting pages.
Mobile Web Browsers, Opera, Opera Mini, Web Browsers