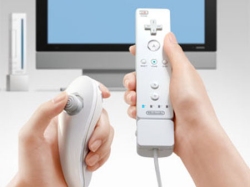 The Sony Playstation 3 has its processing power and the Xbox has its Microsoft but as far as sales go there is really no denying that Nintendo is the closest to the "magic formula" for selling game consoles with the Wii. May marks the fifth month in a row that Nintendo outsold rivals in console sales with 338,300 units sold compared to 81,600 Playstation 3′s from Sony and 154,900 Xbox 360 consoles sold from Microsoft.
Nintendo also has notable sales in with its handheld DS by selling 423,150 units in May, and Sony's Playstation 2 outsold its successor again by more than twice as many with 187,800 consoles. Overall the market has seen a 50% increase in sales of video game hardware and software from last year according to Reuters, mostly attributed to the Nintendo Wii and the Sony PSP, which saw 221,000 units sold after April's price drop to $169.
Both Sony and Microsoft are feeling the pressure in their gaming divisions and have reportedly been considering and making changes trying to keep up with the competition. Earlier this month Microsoft dropped some hints at a possible significant price drop in the Xbox 360 in an attempt to increase sales, and Sony announced some job cuts and are also evaluating a potential price drop in their game console to get closer to the $250 price point of the Wii.
As the days get warmer in the US the game console sales will more than likely slow some but there is no doubt that all the big game console players will be working feverishly this summer readying their overall strategy with products and pricing for the next holiday rush.