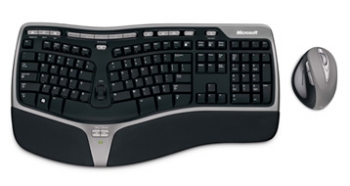 Microsoft released news of a new keyboard and mouse combination targeting those that are at the computer for extended periods of time and could benefit from a more ergonomic design. The Natural Ergonomic Desktop 7000 bundles the Natural Ergonomic Keyboard 4000 with the Wireless Mouse 6000 together for a $150 package that should hit shelves in July.
Both components of the ergonomic desktop connect through 2.4 GHz RF-wireless connections with a USB receiver. The keyboard keys has a winged design which according to Microsoft will give your hands a more natural position while typing, and the mouse fits your hand "as naturally as a handshake".
The mouse has a number of nice features including 4-way scrolling, an instant viewer to navigate between open windows (Alt-Tab too tough?), a magnifier to catch that small print and a both pieces have a battery life indicator letting you know when the battery runs low, before it's dead.
The keyboard of the Dekstop 7000 has a host of nice but common features such as zoom, shortcut keys, and an integrated palm rest to make sure the keyboard takes up plenty of real estate on your desk, but will probably provide a more comfortable experience.
desktop, Desktop 7000, Ergonomic, keyboard, Microsoft, mouse