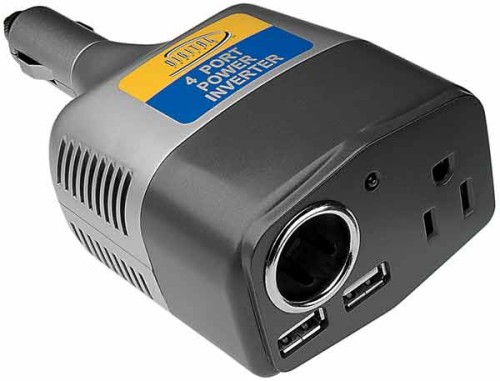 This looks like one handy gadget to have in your car. It's a one-piece 4-port power inverter that plugs into your car's cigarette lighter socket and provides a 110 volt AC outlet, two USB ports and a cigarette lighter socket.
The USB ports would be incredible convenient in order to power devices such as an iPod or a PDA, and of course you can plug in your laptop or any other device to charge in the 110 volt outlet. The 4-port inverter has circuit protection to prevent damage to your electronic gadgets due to power surges and it will automatically shutdown if it overheats or senses your car battery is getting to low.
The compact design of this power inverter is nice, and the USB ports are a great idea. The catalog page from Herrington states that it has a compact design but does not provide any actual dimensions. Since all the electronics for inverting power and cooling it are housed in one piece, it might be a little hefty especially with a couple cords hanging from it. You'll also want to make sure there's room for it where your cigarette lighter socket is in your car. Herrington has this four-port inverter listed for $39.95.
via CoolestGadgets