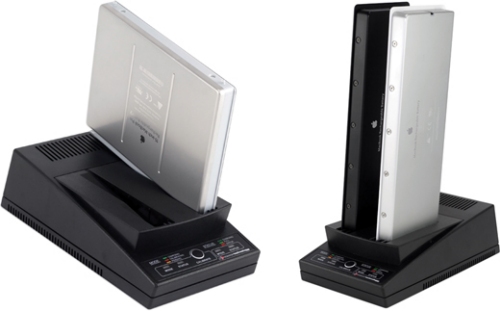 Spare batteries for your notebook sure are convenient when your on the road. A coast to coast trip or all day convention and you'll be glad you had the extra one. The only problem with the an extra battery for the MacBook is that you can't charge it up unless you had it in the notebook. That is until Newer Technology came to town with their battery charger/conditioner.
The NewerTech Intelligent Battery Charging Station is compatible with a number of Apple systems including different models of the MacBook, MacBook Pro, PowerBook and iBook and aftermarket batteries. The charger has two bays that both charge and one will also "deep condition" to avoid memory issues with Li-Ion batteries and potentially extend the overall life of your battery.
The intelligent part of the 'Intelligent Battery Charging Station' is that it doesn't actually charge two batteries at once with the two bays, but will only charge one at a time. Once the first battery is fully charged it will automatically switch and start charging the second battery. This might only really be an inconvenience if you have three batteries since one is always in your notebook being used or charged.
Newer Technology has the MacBook battery charger/conditioner retailing for $149.95 which isn't real cheap for a charger but can save you a lot of inconvenience.
via Gizmodo
TAGS:
battery charger, battery conditioner, MacBook