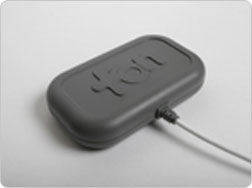 FON, makers of WiFi sharing products, employed some directional WiFi technology along with a somewhat clever play on words to produce the La Fontenna directional WiFi antenna.
We've seen what kind of distance potential there is with the right directional WiFi equipment, and although you won't be going miles with this one it will improve the distance and signal in a particular direction for you WiFi router. In particular, it can improve the signal distance up to 5 times for the FON La Fonera wireless router. It also has a 3 meter cable connected to it in order to get it in the best position, or if nothing else it will add another 3 meters to that directional distance.
The La Fontenna antenna runs $20 by itself, but you can get it bundled with the FON wireless router for only $2 more.