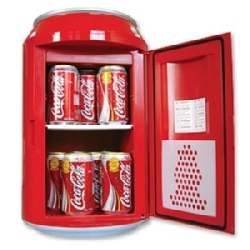 The USB Mini-Fridge definitely has its advantages, but slowly cooling down one can at a time sometimes just won't do the trick to keep up your caffeine high through a full night of gaming.
When your ready to make an upgrade you can take a look at this Koolatron can-shaped fridge. This little Coca-Cola Fridge is 20 inches tall, 13″ in diameter and will hold up to eight 12oz cans or two 2-liter bottles. The fridge can both cool and heat, bringing the temperature down to 40 degrees below room temp, and up to 149 degrees F. A USB power source won't cut it for this much cooling and heating, but this fridge does have a 12-volt cigarette lighter power source for your car or can run on the 120-volt outlet in your house.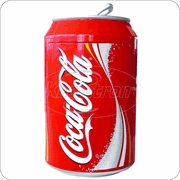 Inside it has a removable shelf and when closed it looks just like a large Coke can. Even the handle to open the door is recessed to add to the look.
via Gizmodo
coke fridge, dorm refridgerator, Koolatron, refridgerator