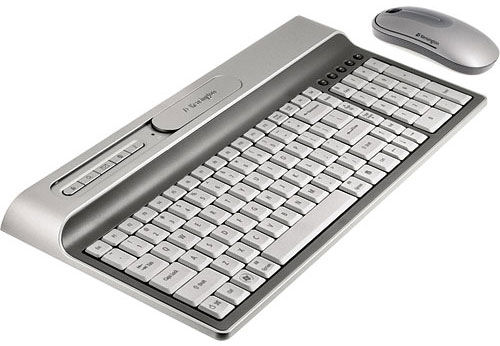 This Ci70 wireless desktop set from Kensington has got to be the sleekest and thinest we've seen, and definitely had the minimalist in mind when designed.
The footprint on the keyboard is 40% smaller than standard multimedia keyboards and even the mouse runs anorexic at 35% of the average size. When not in use the mouse docks neatly in the keyboard to save space and conserve power. An automatic sleep timer also helps conserve energy and saves on wear of the optical sensor.
The wireless desktop works with Windows and Mac computers and has both an Eject button and a Windows start menu button, where usually a keyboard would have one or the other but seldom both. They also both run off of a single USB receiver to help against needing a 16 port USB hub. To top it off the Ci70 is made of titanium.
After seeing keyboards like the Optimus you might think that this wireless desktop should at least run around a few hundred bones, but it's price tag stays with the minimalist theme at a nice $79.99, available for pre-order now.
Product Page via Gizmodo