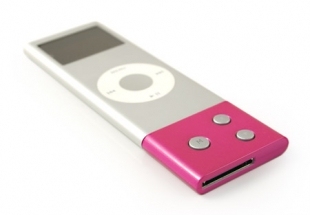 This little attachment for your iPod is an FM transmitter that will send the music on your iPod through your FM radio at home or in your car through an FM frequency of your choosing. There are plenty of FM transmitters on the market that work with iPod's, but this one from Proporta has got a few stand-out features.
It's compatible with the 1st and 2nd generation iPod nano, 5G iPod with Video, iPod mini, iPod Photo, and 4G iPod, and fits right into the docking port, only expanding the dimensions of the player by a little over an inch in length. You can set which channel you want the FM to come through on and the tuning information is displayed right on the iPod screen. Also, even though this gadget takes up the docking port, it extends it and offers the port on the bottom so you can still connect and power the iPod when the FM transmitter is connected. This is good since the transmitter will likely wear down your battery a little faster than with headphones.
The Proporta FM Transmitter is available to order now and will start shipping on the 3rd of July.
via TheGadgetBlog
FM Transmitters, iPod Accessories, Proporta