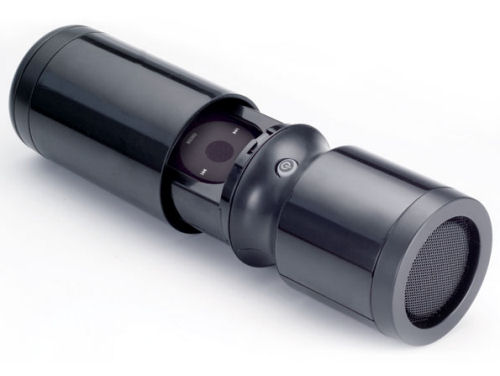 The iH85B iPod speaker/dock from iHome is a water resistant, impact resistant cylinder that houses your iPod to mount onto your bike to enjoy your music through a built-in speaker on the go.
Slide the iPod speaker chamber apart and the iPod fits snugly inside the center where it's protected from the elements while still outputting sound through a speaker in the end of the device. Special inserts accommodate the different sizes of iPods, and a cap protects the speaker when not in use and can be mounted on the bottom of the cylinder during playback.
The speaker/dock also includes a disc-shaped wireless remote control that fits into the other end of the cylinder when not being used, to easily manage playback while riding. Both the iPod bike speaker and remote control come with mounting brackets to mount the devices to the frame of your bike similarly to a water bottle, and the remote can mount to the handlebar.
The iH85B will also work as a dock to recharge your iPod when it's connected to an AC power source but otherwise runs off of 4 AA batteries. It retails for $99.99 from iHome and is expected to be available in July.
via MobileWhack
bicycle dock, bike speakers, biking, iPod dock, Speakers