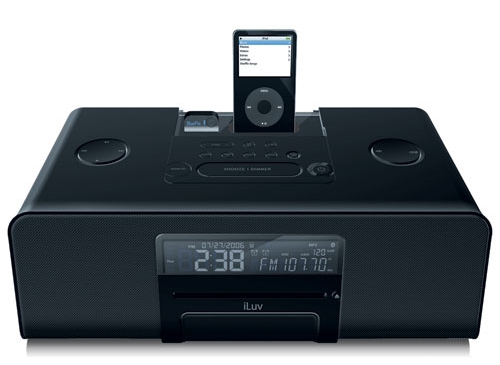 You've probably already guessed with all the i's prefixing the name of this product that this home multimedia system has some claimed integration with Apple's iPod player, and it does. In fact the integration the iLuv i199 has with the iPod and other devices is pretty legit and actually useful.
The iLuv provides quality music playback through jAura speakers and can play music from a variety of sources. The top of the device has a universal dock for iPods which will playback songs and charge the device. If you connect the AV out to your television you can even watch videos from your iPod through the iLuv system on your TV.
Probably the most significant feature of the iLuv i199 is the BluePin Bluetooth audio transmitter and receiver. What the BLuePin does is allow you to stream media from other Bluetooth enabled devices to the iLuv wirelessly, such as songs on different MP3 players, mobile phones or notebook computers. You can also then listen to the music through wireless Bluetooth headphones instead of the built-in speakers.
The i199 also has a CD player that can play standard or MP3 music CD's, an FM tuner and an alarm clock which will wake you to songs from any one of these media sources. It even has a wireless remote control to run things from the comfort of your chair.
The iLuv i199 comes in colors of black or white and retails for $249.99.