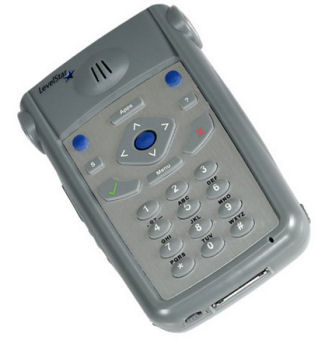 The Icon Mobile Manger PDA from Levelstar is screenless since it's designed for the visually impaired where a screen is just not necessary. However, aside from the display not much else is left out.
This PDA hosts a nice array of sound-driven applications such as an address book, word processor, email client, web browser, music player, voice recorder, clock, stopwatch, and a book and periodical player among others. It also has the latest in wireless technology including Wi-Fi and Bluetooth connectivity on a Linux-based OS. Listening to media and the applications can be done through a built-in speaker or through earbuds and a headphone jack to keep things a little more private. There is also ample room for storage with a 30GB drive and an expansion SD card slot.
The Icon Mobile Manager also has an optional compact docking station (priced extra) that incorporates either a QWERTY or Braille keyboard with an Ethernet connection and a dial-up modem. This technology doesn't come cheap, though. The Icon from Levelstar will run you a solid $1,395.