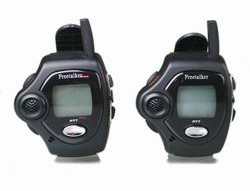 Sure, just because it has the 'i' prefix on it doesn't necessarily mean that this is a device that's jumping on the iPod accessory bandwagon, and it's sad that it makes us cringe with the thought that this is something marketed with some obscure, remote integration to the famed MP3 player.
Luckily that is not the case here, and the i-Wrist Free Talker is most likely got its name due to it's personal use on your wrist. This walkie-talkie from Vavolo has a small design, almost small enough to look like a slightly over-sized wrist watch. Aside from telling the time, (yes it does have a time display) it's main purpose is that of a two-way radio.
The i-Wrist supports communication through 22 different channels from up to just a little over 1.5 miles away. Probably the most interesting feature on this walkie talkie is the "flex and talk" operation, and we're guessing this is where the "Free Talker" part of the name came from. By simply flexing your wrist you can activate the two-way radio to talk, leaving you other hand free.
The i-Wrist Free Talker two-way radio retails for $73 at Vavolo, which gets you a set of two walkie talkies, two rechargeable batteries with chargers and 2 headsets to help keep your conversations private.
via GadgetSpy