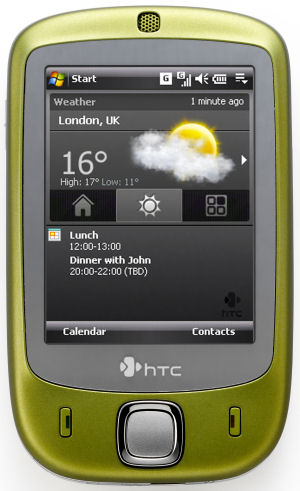 HTC is taking it to Apple's upcoming iPhone with its debut today of the HTC Touch. This new mobile phone, like the name implies, has a touchscreen interface similar to Apple's soon to be released product.
The HTC Touch, which will initially debut overseas, should find its way to American shores in the second half of this year. It makes use of "TouchFLO", a technology HTC says it has been developing. TouchFLO reportedly lets consumers "simply sweep their finger up the display to launch an animated, three-dimensional interface." This interface can be manipulated by similar on-screen finger movements as can built-in functions such as scrolling and and browsing of Web pages and messages.
HTC Touch runs Windows Mobile Professional 6 and has a small, stylish body that sports a 2.8-inch screen and built-in 2-megapixel digital camera. Talk time through the rechargeable battery is around five hours. Other notable features include an included 1GB microSD memory card, a variety of wireless connectivity options like Bluetooth and 802.11 b/g, tri-band GSM/GPRS/EDGE and an initial choice of black or green body colors.
Will this product take much steam out of the upcoming iPhone juggernaut? Probably not, but at least there is an alternative for those not caught up in the Apple mania bug.