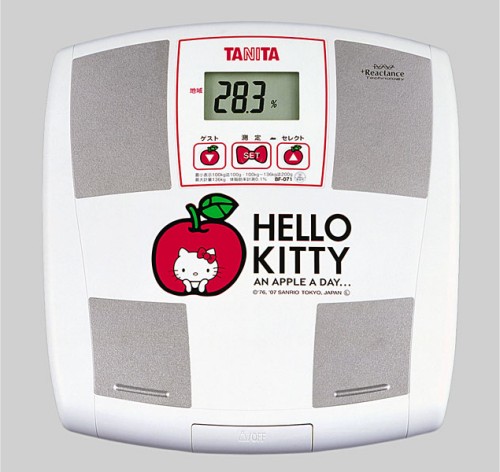 Of all the rooms in your house that could suffer from a lack of Hello Kitty paraphernalia, you can rest assured that Hello Kitty can help it from being your bathroom. Tanita manufactures a wide range of quality scales and body composition monitors and it looks as if they've got a Hello Kitty branded version as well.
The Hello Kitty Body Fat Monitor (model BF-071-KT) shown here uses bioelectric impedance analysis when stepping onto the pads to measure what percentage of your body is made up of fat, and of course it also measures your weight. Aside from body fat monitors being kind of cool, the scale itself is not anything special compared to the Hello Kitty health-conscious "An apple a day.." slogan that you get to look down at every morning.
The Hello Kitty body fat monitor runs about $49, and if you get real serious about measuring and tracking your body composition check out the Tanita Body Composition Monitor.
via Shiny Shiny