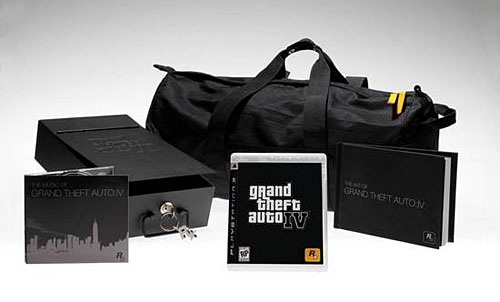 Die hard fans of the uber violent game series Grand Theft Auto are certainly looking forward to getting their hands on Grand Theft Auto IV when it ships later this year. They may even get more excited when they check out the Grand Theft Auto IV Special Edition just announced for around $90.
The Grand Theft Auto IV Special Edition looks like a sweet package. You obviously get the game plus some other swag, all delivered to you in a customized metal safety deposit box. This box holds an art book showcasing scenes from the game, a soundtrack CD with tunes exclusive to it, a Rockstar key chain which holds the keys to the box and a duffel bag to hall around your stolen goods in.
This will definitely be a drool over collector edition for lovers of the game. Just don't mug any little old ladies or hijack cabs on your way to pick one up.
[Product Page, via Destructoid]