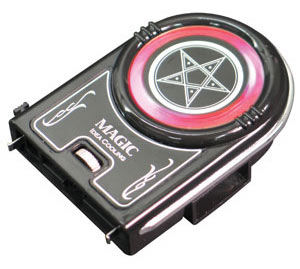 What type of magic that's involved in this pentagram ladened cooling fan we're not sure, but what we are pretty convinced of is that it generates some serious negative airflow to strip your notebook of excessive heat.
This Magic notebook cooling fan weighs only 60 grams and connects via USB to draw hot air from you notebook at two different speeds and expel it in a designated direction with the ability to rotate 180 degrees.
Keeping your machine cooler can improve performance, increase the life of the components and even just keep the lap it's sitting on just a little cooler. Evercool also added a little more style to this fan than you usually might see with the LED light show on the case and what they call a "mysterious" pentagram design.

Product Page via Engadget