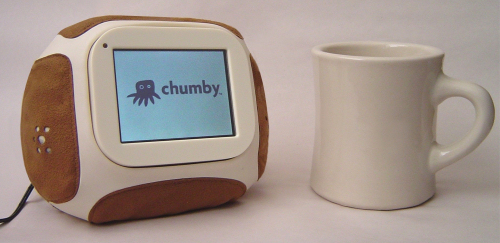 Remember those fuzzy little monitors/alarm clocks/WiFi widgets called Chumbys that we told you about oh so long ago? Well now we know when you can get your hands on one of these digital darlings: if you're one of a privileged group of insiders you will be the owner of a Chumby this August but if you're like us it will have to wait until the fall.
The unit will retail for $179.99 and be built with a 350 MHz ARM processor, 64 MB of RAM, a 320 x 240 3-inch screen, two USB slots, 2W speakers, a built-in microphone and accelerometer and come with a cleaner case. You will be able to customize your Chumby to perform a bunch of tasks like play videos, share photos or other fun things that you can download from the website and you will be able to modify its exterior too to suit your own personal funky taste.
Expect to see the first reviews pop up in two months from the beta testers who are now full-fledged owners of the first batch of Chumbys.
via Engadget