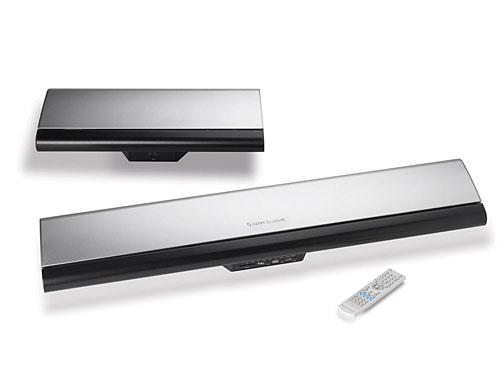 Altec Lansing looks to be going more high end with its speaker systems via today's unveiling of the Powered Theater Series. Two wireless models make up this new line – the two-speaker PT8051 ($1,000) and the one-speaker PT7031 ($600).
Both wireless speaker packages take the form of nice looking bar-style speakers. They are designed to match the look of flat panel televisions. The PT8051 supports Dolby and DTS listening modes and is capable of providing surround sound through left, center and right channels within one front speaker as well as left and right channels included in a rear speaker.
The PT7031, meanwhile, makes use of Dolby virtual speaker technology to give you simulated five-channel surround sound. Both speaker systems should be available in August. That's just about the time you'll be hitting Costco to pick up your budget flat panel television for the fall football season.