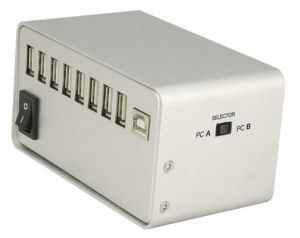 With all the peripheral USB devices around today that you can connect to your computer, there just never seems to be enough USB ports to go around. Here is a highly unattractive but functional USB hub that has 16 ports to connect your USB peripherals to your computer.
Not only can you connect many devices, but the USB hub has two ports which connect up to two different computers. A selector switch lets you choose to connect the hub to "PC A" or "PC B".
The hub is USB 2.0 compatible and retails for $24.17 USD.