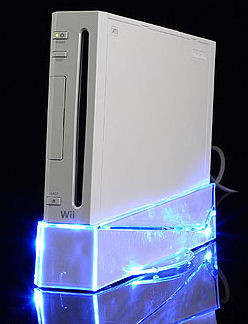 The Nintendo Wii game console doesn't have quite the processing power of its same-generation rivals the PS3 and Xbox 360, and probably doesn't run quite as hot as its sales do but that doesn't mean that keeping it cool won't help.
This Wii accessory from Brando not only works as a nice upright stand for the game console, but it also has a "high velocity" fan built in that helps keep the box cool and in turn should prolong the life of most any electronic device.
It also has a blue LED light in the transparent stand that makes it look as cool as it acts. Both the light and the fan can be also turned on and off independently on the Wii Crystal Cooler for those times when you don't want to be so cool, and $19 will get you hooked up.