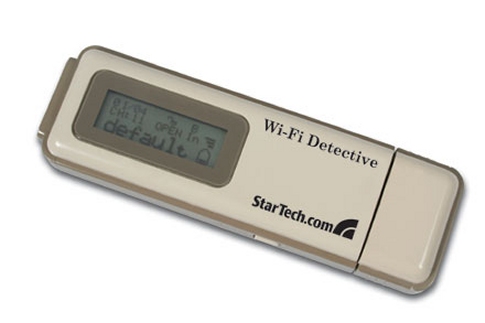 StarTech has brought another Wi-Fi detector to the market which appears to have some competitive features and price at $75, adding to the many Wi-Fi detectors out there. The Wi-Fi Detective is a small device (3.58 inches long) featuring a LED display and a USB connection. Devices like these are great when your in a downtown area or at an airport looking for an internet connection.
The device is able to detect Wi-Fi networks and display information such as the signal strength, SSID, the type of network (b or g), whether it's an infrastructure or adhoc mode, the channel and how many access points are being picked up.
The USB connection on the Wi-Fi Detective is compliant with both USB 1.1 and 2.0, and when connected to your computer will act as a wireless LAN adapter at 54Mbps making your PC a WLAN access point. It also houses a built-in rechargeable battery which will charge up whenever it's plugged into a USB port.