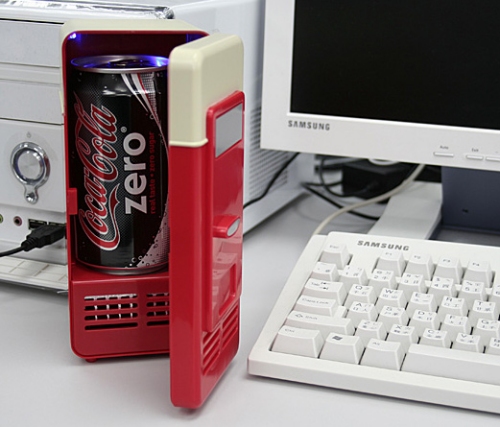 This tiny desktop refrigerator is a definite step up from the USB Beverage cooler "cold plate" we wrote about last fall. With the ability to cool your drink down with a running temperature of just over 8 degrees C, this USB Mini Fridge can hold and cool exactly one standard 12 ounce can. It's powered solely by USB via your computer which makes it a fairly portable personal fridge that can sit on your desk and keep your drinks cool, one at a time.
The design resembles a tiny refrigerator and even has a little LED light inside when opened (we have a feeling that this refrigerator light really does stay on all the time). We're not sure how long it would take to actually cool down a can of soda, and this probably isn't something you would want to run from your laptop battery.
These little USB Mini Fridge's are available from Brando for the asking price of $33.
Source: Gizmodo
mini fridge, refrigerator, USB, USB Mini Fridge