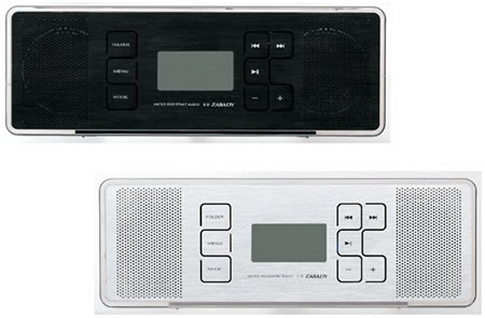 Twinbird is known for it's waterproof gadgets and the latest they've brought to the market is an MP3 player with some pretty cool underwater-able features.
The SD ZABADY is the latest from the company and provides a measly 128MB of internal storage for your audio media, however it does have an SD card slot capable of handing cards up to 2GB. It has an LCD screen to show what's playing and for navigation, connects and transfers files via USB 2.0, and has built-in speakers.
The device can play MP3 and WMA files for as long as 18 hours, but the real thing to take notice of with the SD ZABADY is that it's waterproof at a depth of up to 1 meter for as long as 30 minutes. This isn't the MP3 player that you would want to strap to your arm while you swim laps or go snorkeling, but does make it a real nice solution for the bath or in the shower. We also like this better than the iPod shower docking station since you can actually control this one while your in the shower.
This device is now available in Japan for about 15,000 Yen ($123).
Translated Product Page via FarEastGizmos