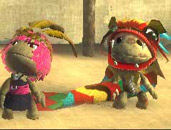 Sony isn't sitting on its haunches watching potential PlayStation 3 customers try to find a Nintendo Wii or open their wallets for a Microsoft Xbox 360 Elite. At a media event held in San Diego yesterday the company drummed up some excitement for its upcoming game lineup for the rest of 2007 and the start of '08 and showed that there's plenty of excitement to come for PSP and PS3 owners.
The game that's attracted some of the biggest buzz is "LittleBigPlanet", a community based game that lets up to four players solve puzzles by interacting with objects. The game is high on creativity, boasts impressive graphics thanks to the PS3′s Cell processor technology, has a very catchy soundtrack and is stuffed with an immense amount of cuteness that should appeal to a broad audience (and maybe even a jaded "Quake" gamer or two.)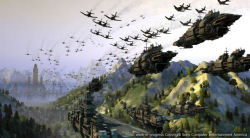 The flying sim "Warhawk", the martial arts combat brawler "Heavenly Sword" and new "SOCOM" and "Syphon Filter" are also shaping up to be serious contenders for big sellers for the PS3. There's also room for a novel idea in "Pain" which lets you put digital humans in the firing line of a giant slingshot with the goal to cause as much pain as you can upon them. Look for that one to become available for download on Sony's forthcoming PlayStation Network.
Surpringly there wasn't any mention of "Killzone" for the PS3, a title that was touted majorly by Sony when the PS3 was announced at E3 2006, leading some to speculate that it may not see store shelves now until 2008.
The PlayStation Portable was also representing with a slew of future titles including "God of War: Chains of Olympus", "Jeanne D'Arc", "NBA '08″, "MBA '07″ and new installments in popular franchises like "Silent Hill", "Crazy Taxi", "Castlevania", "Dungeons & Dragons", "Manhunt", "Star Wars Battlefront", "SOCOM" and "Siphon Filter".