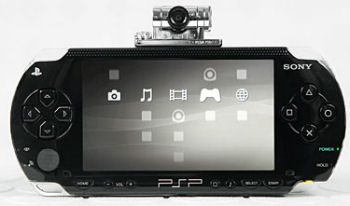 Well that didn't take long. Just last week Sony announced their PlayStation Eye for the PS3 and now they've told European PSP owners to expect their own ocular add-on in just over two weeks.
The Go!Cam will street on May 16 and cost about 35 pounds (US $70). It can take up to two-and-a-half hours worth of video/audio (it's got a built-in mic) or about 40,000 photos with a 4 Gig Memory Stick PRO Duo. Best of all, thanks to the PSP's wireless abilities you can transmit those files without the need for cords and clutter. The tiny chrome camera has a 180 degree vertical range but no horizontal movement. The Go!Cam will come bundled with Go!Edit software which allows you to edit and store your video and audio files.
So far Sony has only issued price info and a release date for its European customer base but we can't see it taking very long for an announcement aimed for the rest of us PSPers trapped on the North America continent.
via Reg Hardware