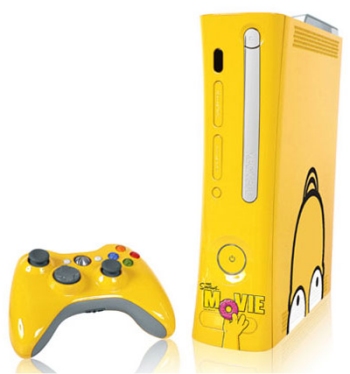 Now that the Simpsons have a new feature film heading for the big screen Fox has teamed up with Microsoft to make a shiny yellow Simpsons-themed Xbox 360 to help promote the movie. The 360 case and controller have been given a glossy coat of Simpsons-yellow paint along with a big picture of the top half of Homer's head on the side.
For those of you that are Simpsons collectors or Xbox Collectors, actually getting your hands on one of these Simpson's Xbox's might prove to be difficult as Microsoft is only making 100 of them. The units that they do make will be used to be given out and different events and promotions for the Simpsons movie.
According to Engadget the Simpsons game will actually not be coming with the unit as you might think, and Microsoft has skimped a little bit on the hardware in the Simpsons Xbox by equipping it with the 20GB Xbox Pro model instead of the Xbox Elite.
game consoles, Microsoft, Simpsons, Simpsons Xbox 360, Xbox 360, xbox 360