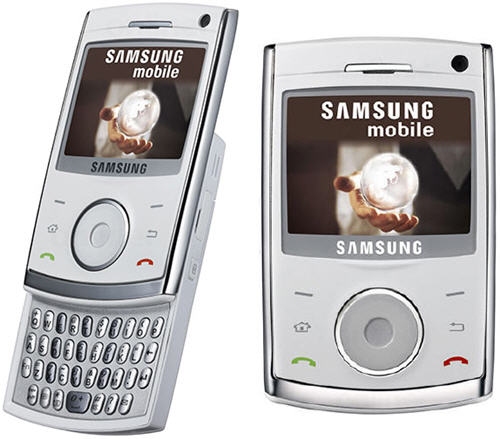 Here's a look at the latest design in smartphones from Samsung called the Samsung i620. The i620 is a slider style design which exposes a full QWERTY keyboard with slid up and makes for a very attractive looking style.
The designers still managed to keep this one with a thin a narrow profile despite the full keyboard. It's overall dimensions are 113 × 59 x 11.8 mm which makes it only slightly larger than the Blackberry Pearl, (6mm taller and 9mm wider), but the i620 is actually a couple of mm thinner.
The phone appears to have some type of navigation wheel on the face with a few buttons probably for managing phone calls and quick navigation. Some other features that are expected when the Samsung i620 is officially released include a 2 megapixel camera, VGA camera on the face, Wi-Fi, Bluetooth, a microSD card slot, 320×240 screen. The device also has GSM, UMTS and HSDPA connectivity.