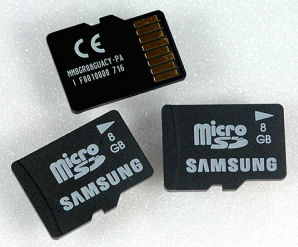 Samsung has unleashed the latest in tiny Flash memory device technology with an 8GB MicroSD card, doubling the previously largest 4GB card by SanDisk.
The significance of this, other than the obviously larger storage capacity, is how this will help bring just about any media phone that uses MicroSD in closer competition with Apple's new iPhone touting it's 8GB flash storage capacity. With this release an 8GB media phone won't be that hard to come buy and most likely will not require a $600 price tag.
To avoid you having to do some quick math, this card could potentially hold 2,000 MP3 files, 4,000 digital images, or about five full-length movies. Unfortunately we don't expect to see this new card from Samsung until mid-2008 and there is no word on price, yet.