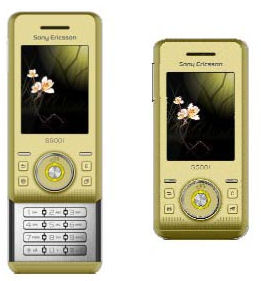 "Small details" are what set these phones apart according to Sony Ericsson and their designers. With the S500 these designers have added some small details to a new mobile phone that appears very similar to recent Walkman models.
The Sony Ericsson S500 sports a new concept by adding more to the individualization of a mobile device. Aside from just setting themes on the display and choosing from different colors, this device can be set to change the look of its desktop and menu as time passes. Users can set the S500 to have the displayed theme and hidden illuminations change as day turns to night, as you go into the weekend or even more slowly as the seasons change throughout the year. On a little more static basis, this phone comes in colors of "Mysterious Green" or "Spring Yellow".
The new design comes with a comprehensive media player with associated software for your PC, a 2 megapixel camera and a slot for an external Memory Stick to expand the amount of media you can take with you.
It also works well as a mobile phone should you choose to use it as such, supporting quadband GSM plus EDGE with 9 hours talk and 370 hours of standby time. There hasn't been any notice in the way of a carrier but we can expect to see the S500 sometime in the 3rd quarter of this year.