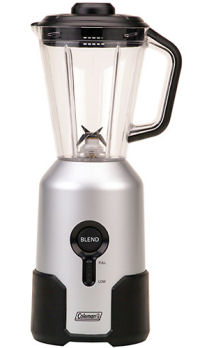 One thing that really makes it difficult when trying to rough-it in a camp site is the noticeable lack of frozen drinks. Sure you have plenty of ice in the cooler, but what if you want to blend up a margarita or other frozen concoction?
Well, it's a good thing Coleman is looking out for you with their rechargeable blender. This camping gadget is able to blend up a 48 oz pitcher of drinks in about 30 seconds and can mix up as many as 30 pitchers in one charge, which should get most people through a weekend of mixing it up with nature.
The cordless blender has two basic settings: "blending" and "not blending". It comes in a silver stainless steel finish and the pitcher locks into the base for easy and safe transporting. We're not sure if it would hold up to blending a golf driver but hey, ice is good enough for us.
Coleman has this model running for about $87 among other models of rechargeable blenders so you can pick one up when planning your next outdoor vacation. They even have a "marine" version available for a few extra bucks.
blender, camping, Coleman, Rechargeable blender