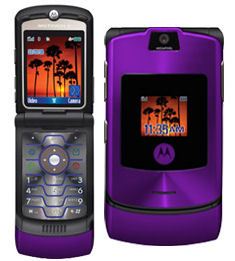 Motorola today released a new purple MOTORAZR V3i which is incidentally available only through the MOTOSTORE.
Aside from the flashy exterior color released just in time to order for Mother's Day, the new purple version of the RAZR has the same popular form and function of the regular MOTORAZR by supporting Quad-Band and Bluetooth connectivity and housing a 1.23 megapixel camera. The phone ships without a service plan, is unlocked and is compatible with any GSM phone service.
This purple MOTORAZR is available for purchase now for about $240, where you can get a regular ol' blue RAZR less the $10 purple premium.