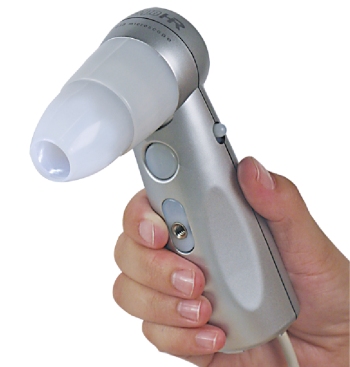 There are quite a few webcams available these days for everything from simple communications to security monitoring, but most of these focus on the macroscopic world. Bodelin Technologies has a USB device that can deliver images to your computer on a little smaller scale.
The device they've created is called the ProScope HR and is a digital microscope that connects to your computer via a USB 2.0 connection. The device is compatible with Windows and Mac's and has software for each. Depending on the attachments the ProScope HR can focus in on items from 50x to 400x magnification.
Bodelin has a gallery of examples taken with the USB microscope such as a fly eye, and earthworm at 400x and our personal favorite, a sweaty finger at 50x where you can actually see the sweat pores.
Along with still images the digital microscope can also take short AVI video and can be configured to create a time-lapsed movie through taking still shots periodically over a longer time period. Something like this can be very handy to record and document changes in different science experiments, and makes daunting tasks such as watching grass grow or paint dry a little more tolerable. There are also a number of accessories available depending on the application of the USB microscope in the way of stands, lenses, CSI kits and carrying cases for the different types of kits.
You can pick up the basic ProScope HR kit from Verneir starting at $275, where they have more information as along with a number of pretty cool looking microscopic activities and mock CSI cases to work through with the digital microscope.
Microscope, ProScope HR, USB Microscope