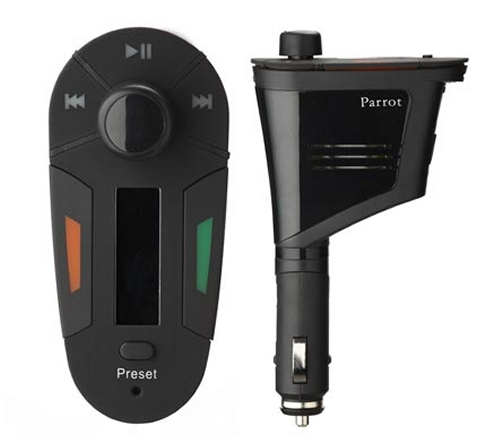 Parrot has just released a super-easy to use Bluetooth car kit to facilitate easy, hands-free phone conversations and music through your cars FM stereo. By simply plugging this device into your cars 12V cigarette lighter adapter and setting the PMK5800 to an open FM frequency it will transfer music or voice wirelessly through the speakers in your car.
Provided you have a Bluetooth enabled mobile phone or MP3 player and your car has an FM radio, this device is a really a pretty simple plug-and-play device. Getting its power from the cars 12V adapter and it's voice or music through Bluetooth there is no wires or installation necessary. Full duplex voice conversations can be done hands-free through the car stereo as well without having to install any elaborate system in your car.
Aside from full-duplex the Parrot PMK5800 car kit features software to void echoing, voice recognition and an "FM scale detector" which can sense when you tune your FM stereo to the frequency it's transmitting. The advantage of this is the ability to answer calls by simply changing the FM station on your stereo to the preset for the PMK5800. The device detects the change from listening to a different station or a CD and connects you to your phone.
We expect to see this new Bluetooth car kit from Parrot sometime this summer for around $120.