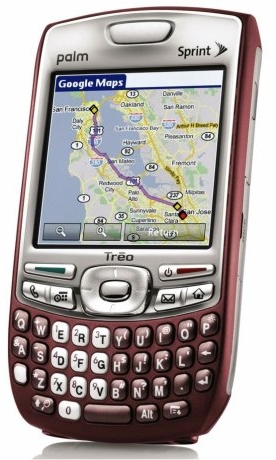 Palm has recently released the latest in its ever-slowly-improving lineup of smart devices, this time expanding on the 700 series with the Palm Treo 755p running on the Sprint network.
The Treo 755p is the first Treo that ships equipped with the Microsoft Direct Push technology for email as well as Google Maps for mobile devices. The Google Maps support lets you can not only see maps and satellite photos, but also get directions, see listings local to your area and even get real-time traffic updates. It's a CDMA device and unfortunately WiFi support is still a lacking nice-to-have that we always look for in a smartphone.
The device does however have support for EvDO (Rev.0), mini-SD card slot supporting up to 4GB cards, a 1.3 megapixel camera that takes stills and video, SMS support for Yahoo, AOL and Gmail, and the ability to watch mobile video with Sprint TV. With the right service plan you can use the Treo 755p as a modem for your laptop via a USB connection or Bluetooth.
The overall somewhat-slim frame hasn't changed much but they've added some color as the Palm smartphone comes in either midnight blue or burgundy. We expect that Palm and Sprint to have the Palm Treo 755p available in mid-May through Palm and through Sprint for prices around $280 with contract discounts and promotions.