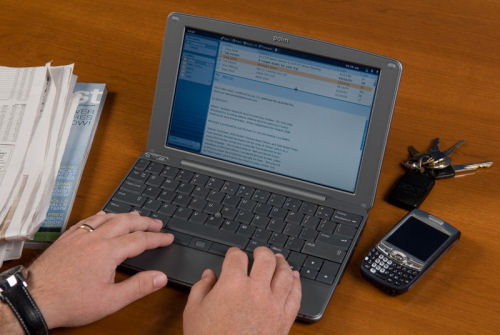 Road warriors seem to often encounter a similar problem with their mobile computing devices. Laptops are too big to carry around everywhere and use in small spaces, and PDA's are too small to really be able to modify documents or type an email of any significant size, even with a QWERTY keyboard. Today Palm announced a solution intended to fill this gap between the handheld device and a notebook computer with the Palm Foleo Mobile Companion.
The Palm Foleo is smaller than most notebook computers with a 10 inch screen and weighing just 2.5 pounds. The main purpose of the device is to synchronize with your handheld mobile device and allow a full keyboard and larger screen to view and edit documents, write emails and surf the internet. It connects via Blutooth or WiFi to your mobile device and estimates a battery life of about 5 hours.
The Foleo runs on a Linux OS and allows the user to view and edit documents such as MS Word, Excel, PowerPoint and Adobe PDF's along with checking email and viewing webpages. It works with most smartphones that are running either the Palm OS or Windows Mobile versions, and will soon offer a software update for OS's from RIM, Apple and Symbian.
This announcement from Palm makes me wonder what the point of this device actually is. It does have an "instant" off and on mode so it doesn't need the time to boot like a notebook computer, but what is the point of having the ability to view emails, the internet and documents on my mobile device if I just need to use a different, larger device in order to really make use of them? Maybe devices like the Foleo will eliminate the need to view or interact with documents on your mobile device altogether, or maybe companies making mobile devices should just do a better job in allowing the user to interact with them.
Palm is planning on launching the Foleo Mobile Companion this summer priced at just under $600, and they are saying they will have a temporary $100 rebate when the product first launches.
You can "experience" more of the Palm Foleo at the Palm website.